Cool Caravan stickers, Colourful Car decals and Creative Camper van stickers
Hippy Motors is the perfect site for alternative van stickers, allowing customers to set free their creative talents and decorate their vehicles in imaginative ways. We received a lot of great pictures of in March and sorry if I have not included one you sent but we have to be very ruthless on how many images we post.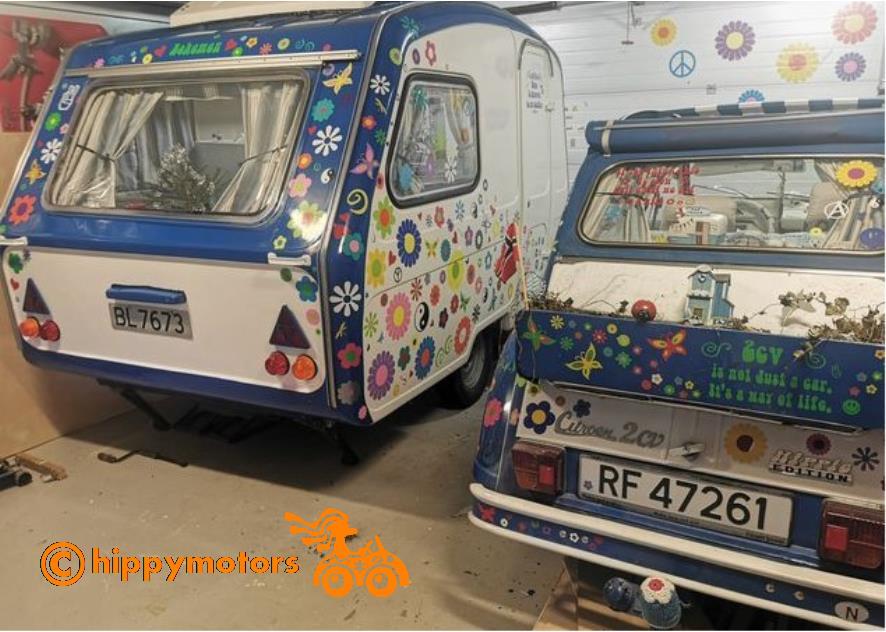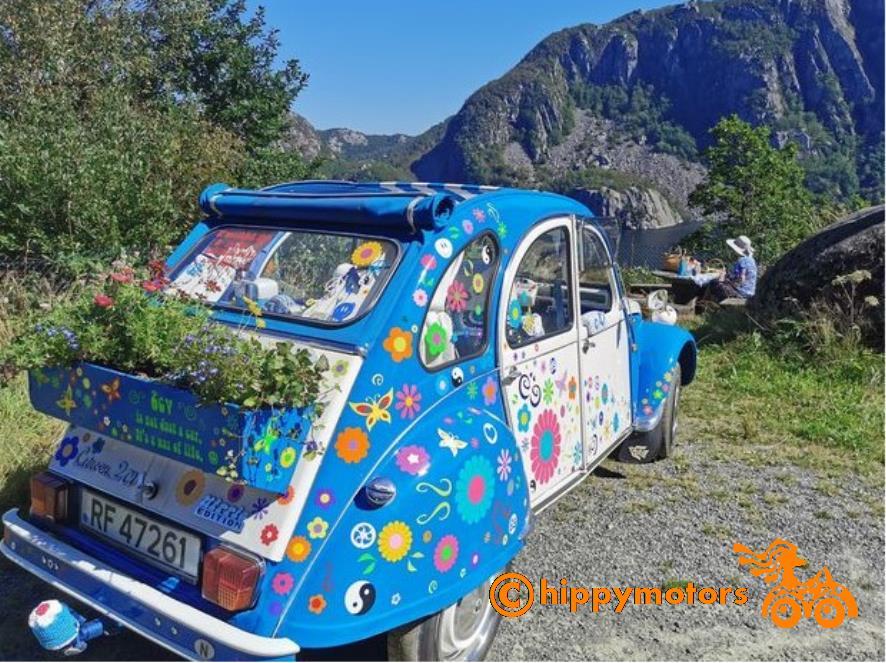 You may recognise these as we've shared Ole's vehicles a lot. What we love about the top one is that our decals are even on the garage door.
Staying in Norway with a 2CV theme take a look at Tove's red 2CV below (that we have shared a lot already). So beautiful. We do wonder if Norway have a particular love of the 2CV and I feel the same.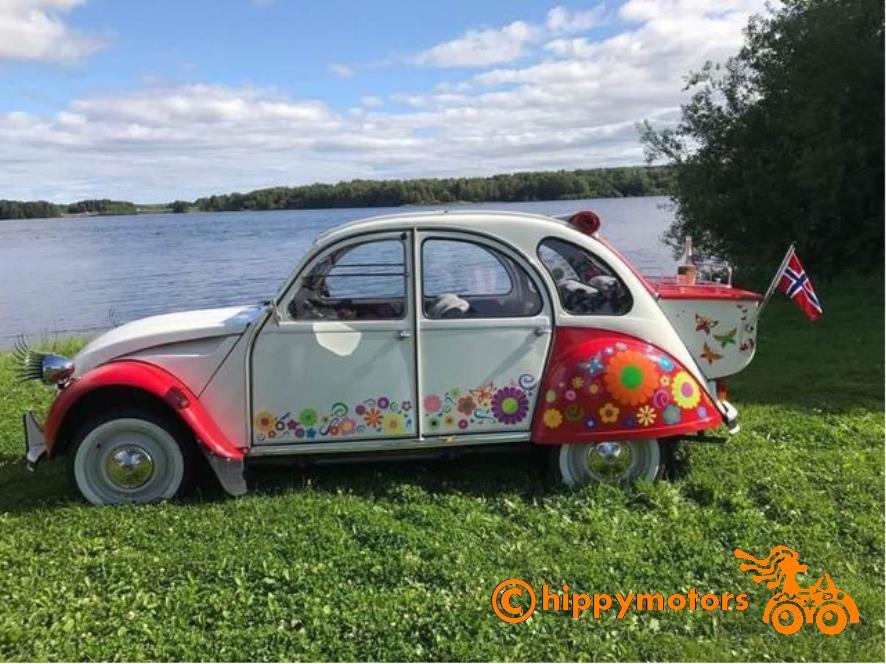 Moving from Norway to Australia we got sent pictures of an amazing vehicle. It is clearly a tough looking beast with its bull-bars and mesh on the windows. Am I wrong to think it could be a post apocalyptic Mad Max fun hippy bus? Lorene sent these to us with a uplifting message for us here "The first stickers I purchased about 3 years ago are still as good as new... even the tough Aussie sun hasn't faded them." That makes us feel good because we do spend a lot on our vinyl and make sure we buy the best the UK manufacture from our Metamark partners so you will not get upset like others do after buying rubbish quality Hippy Motors copies on Ebay and Amazon.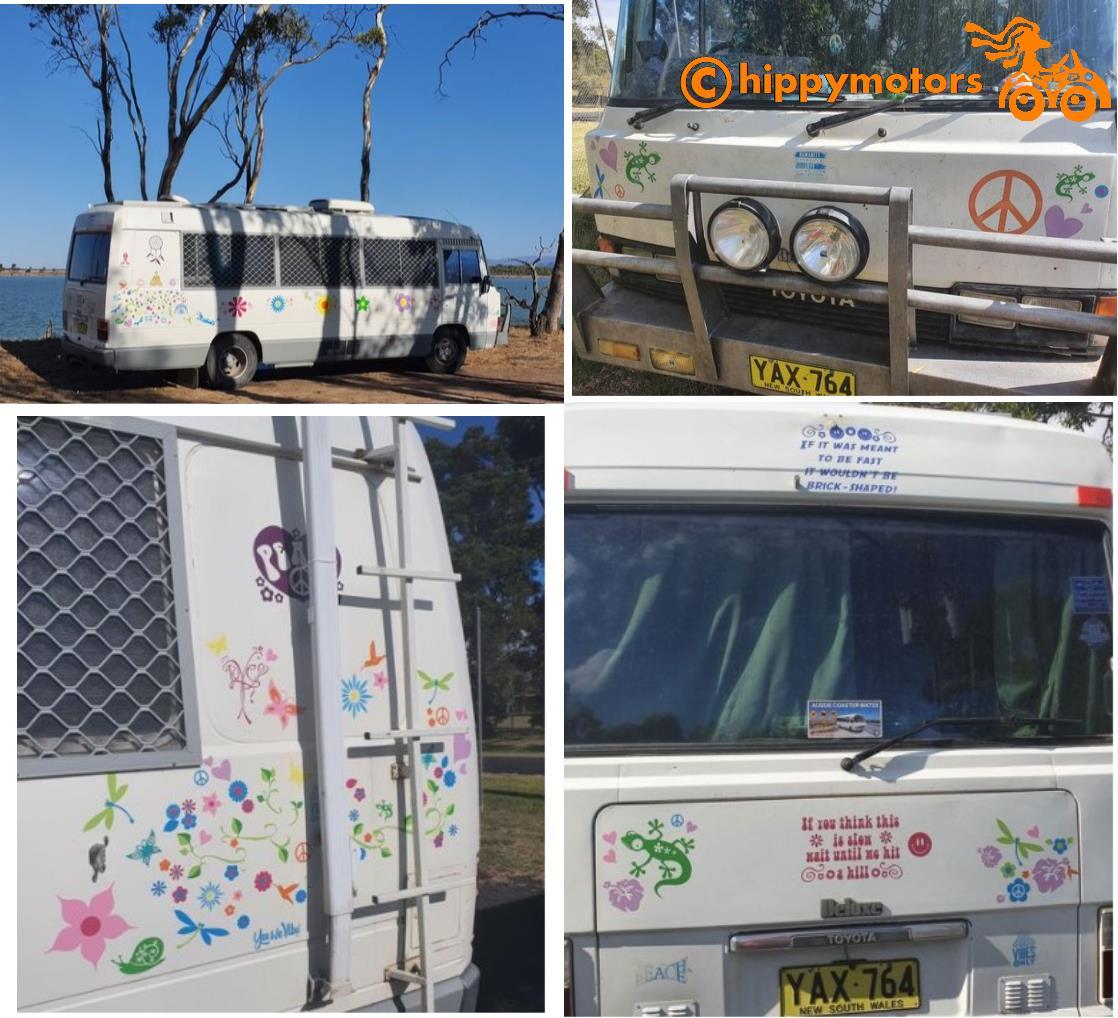 Here's a more commercial commission we did for the very good people at North East House Buyers. We supplied the banners and they did a crackin' job putting them on so they can promote the good work they do in clearing bad housing debt and renovating houses in the beautiful north east of England.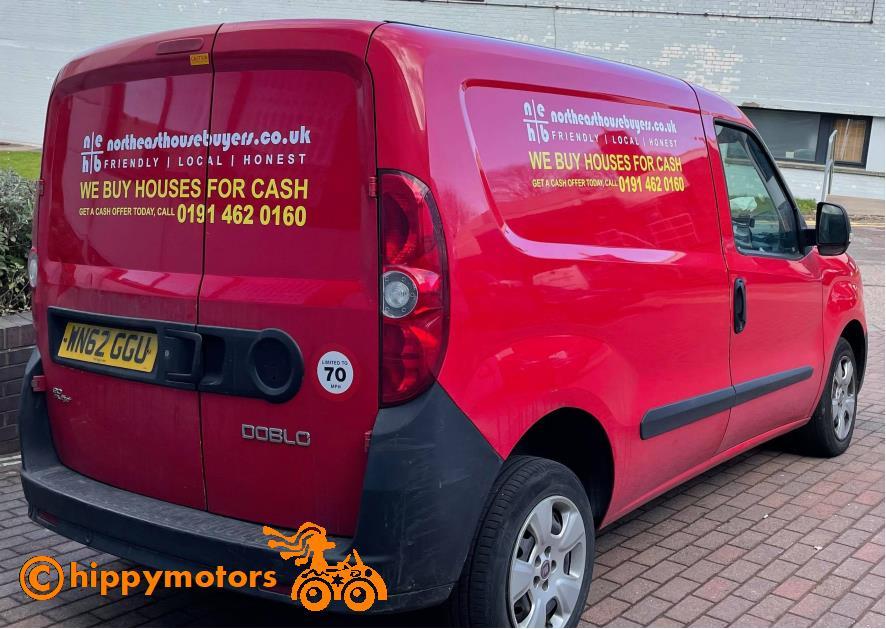 Rachael sent us these pictures of her beautiful work stamping her personality on her van. Love the variety and composition she's achieved here and she got her website deeperbeing.com on the back as well to promote her good work. Everyone needs a Rachael in there lives.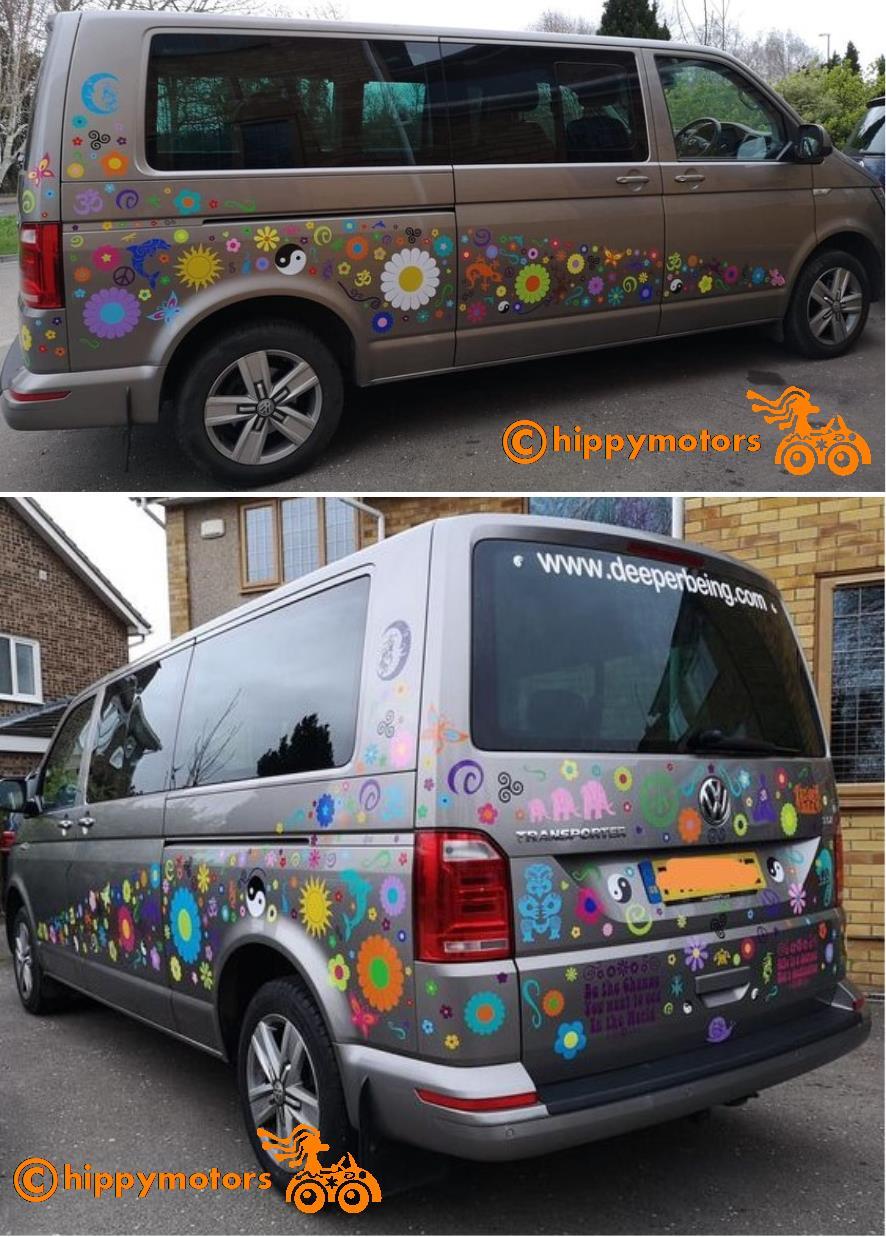 And this is a lovely shot of the Flower Sun Strip on the inside of a van. It's hard to take good pictures of the sunstrips so we are impressed. They look so beautiful and spread colour on your smiling faces as you drive. They also add colour to grey sky as shown here.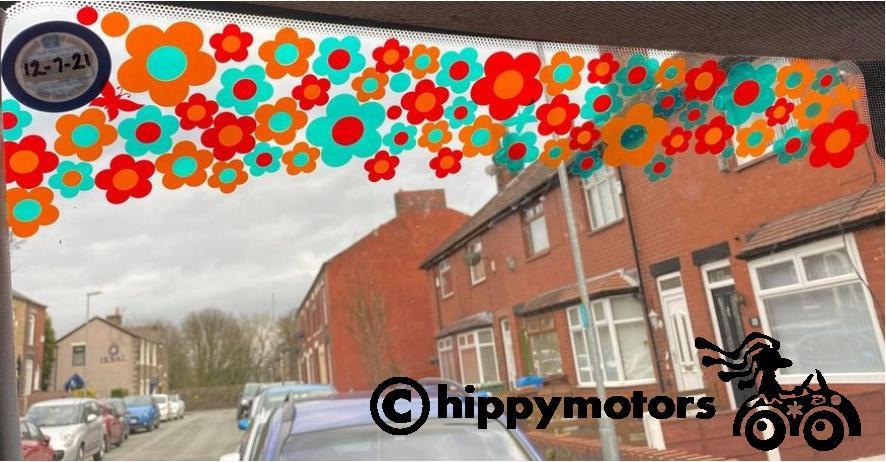 Also been sent this one of our giant Eclipse on a bonnet. It looks totally fab. If you like our eclipse design then wait for our new range of portable Hippy Motors campfires. You'll get the option of having that design cut in steel in a campfire.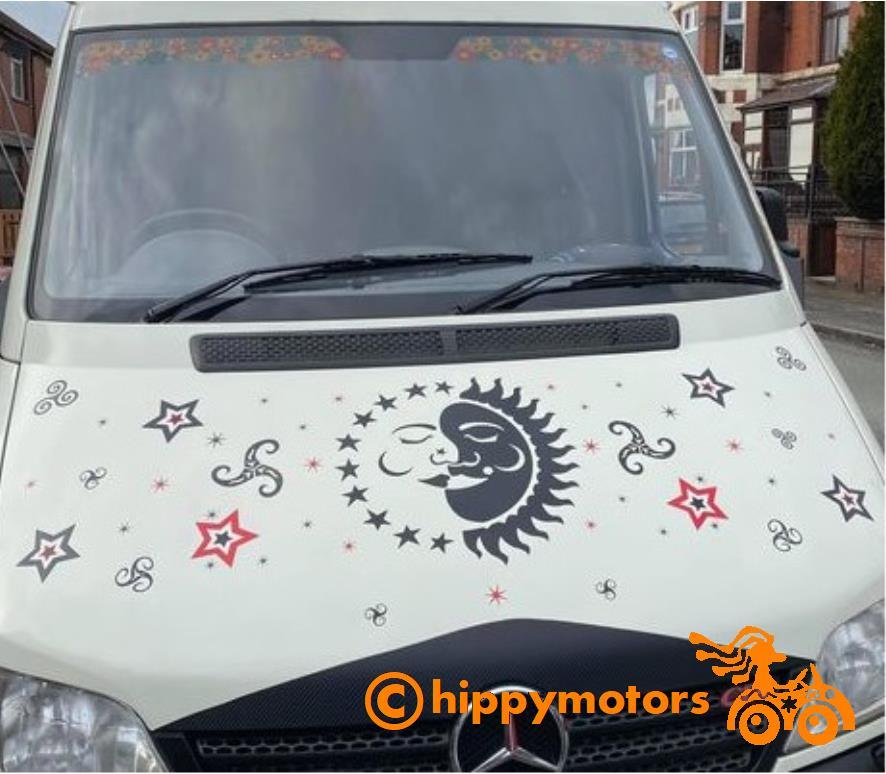 Here is a great composition from Dee. The big compass is not ours but their are no rules to say you can't incorporate other companies decals. Really good and simple use of the hibiscus and fern all in white although we seem to given a free gold dragonfly just to mess it up. Nice and simple, well done Dee.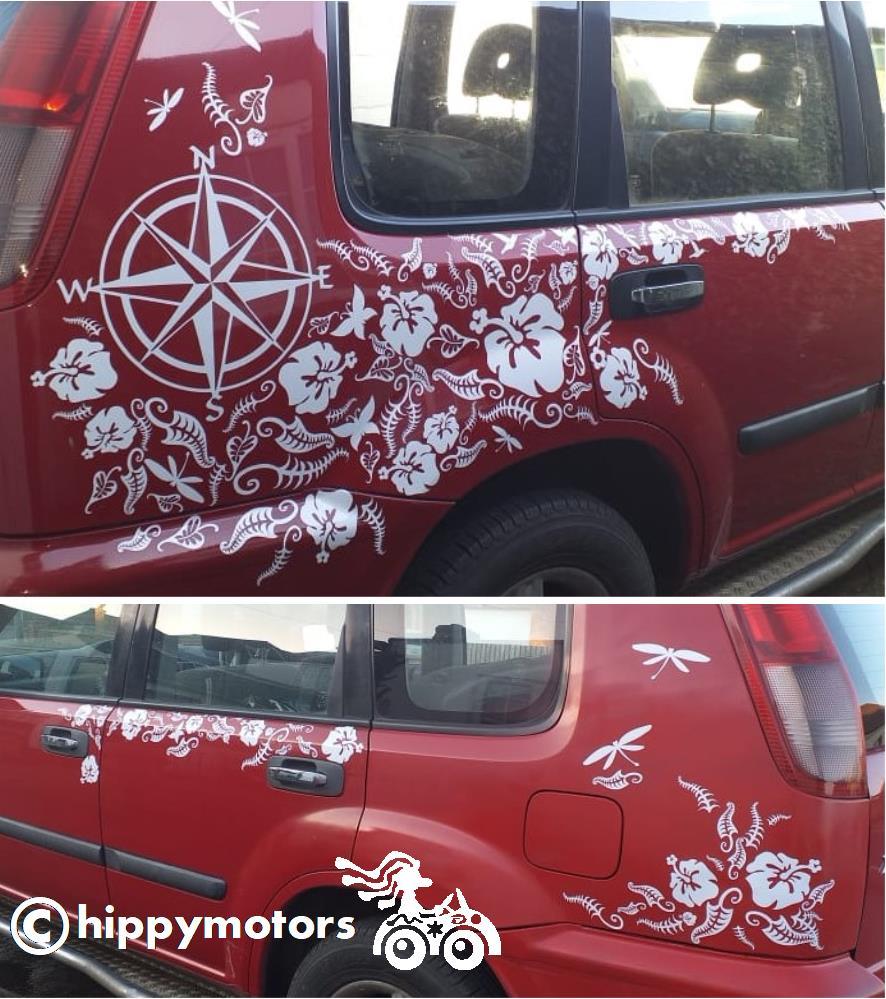 Martin has put on the One Race Checks with Hearts and Butterflies on his car. We intended the kit to be used for vans as it's so long but Martin sorted out a cleaver way of doing it. Well done, we are very impressed.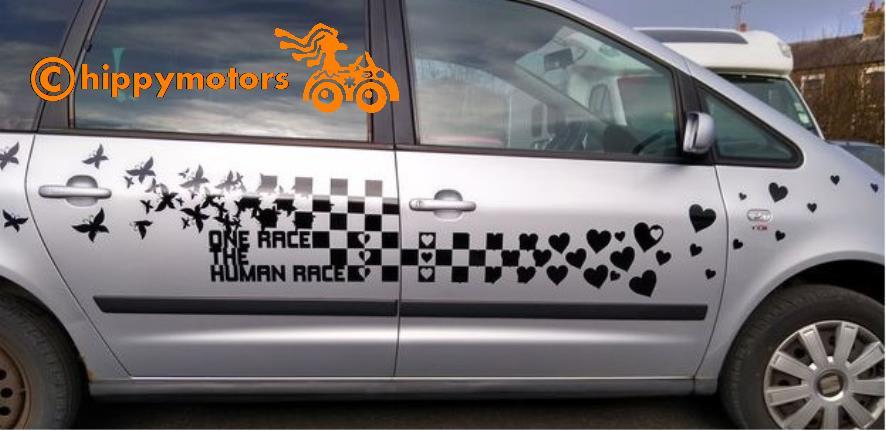 And this lovely little van must be the prettiest gardeners van in her area. A great example of our Curly Creature set. Thank you Ruth for supporting us.