Where is the money from the

Poo Tin stickers

going?
We are overwhelmed by your response to our Poo Tin stickers. We have never even come close to selling something before in that time in that sort of volume. We could see from the first few moments of uploading on Facebook our video of us putting one on a dog poo bin that we were in for a great response.
Now, one week later, we can tell you where the money is going and how much. We can confirm we are passing on 100% of what you paid. Our contribution is to take the cost of the materials and bank charges so it's nice and clear that we are not taking any part of your money. Whether we can do the same for the next transfer of money we can't say as we are not very flush ourselves.
How much was raised by selling Poo Tin stickers?
So here is some figures then I'll get onto who is getting the money.
As of Friday 18th March we sold 197 Poo Tins. That's £788 total. Fantastic!

So who is the money from Poo Tin going to?
We have decided to split the money as we are aware two fantastic organisations/families that both need money right now to do good work.
First one is a family we know through our daughter called Azarov. They sent this text message to her explaining their situation in Ukraine, "The family has been living in the Transcarpathian region since 2014 when it started in Donbass. Everyone goes around doing what they can, the boys go to the areas where there are shelling and hand over food, nappies and everything necessary, women bake cookies and prepare food for refugees in their homes. we all understand that we need to help each other because God wants it."
This family moved out away from the east of Ukraine to the west after the Russian invasion of Crimea as they felt unsafe so close to Russia. They've taken in many families into their home and supplying water as well to the people they're sheltering, because the water mains supply has been cut off completely due to the shelling. One of the brothers keeps going to the most damaged areas to help people, so they are worried every day that he won't come back. They've been using a van for the supplies, but right now it has just broken down so they're trying to get the money together to fix it. Most of the men in the family have joined the military to defend themselves from Poo Tin's invasion. We hope your money will mean the Azarov's can keep the van and family going and we bow to their bravery.
Here are some of them before the invasion. How anyone can target people like them is impossible for me to understand. We wish them well.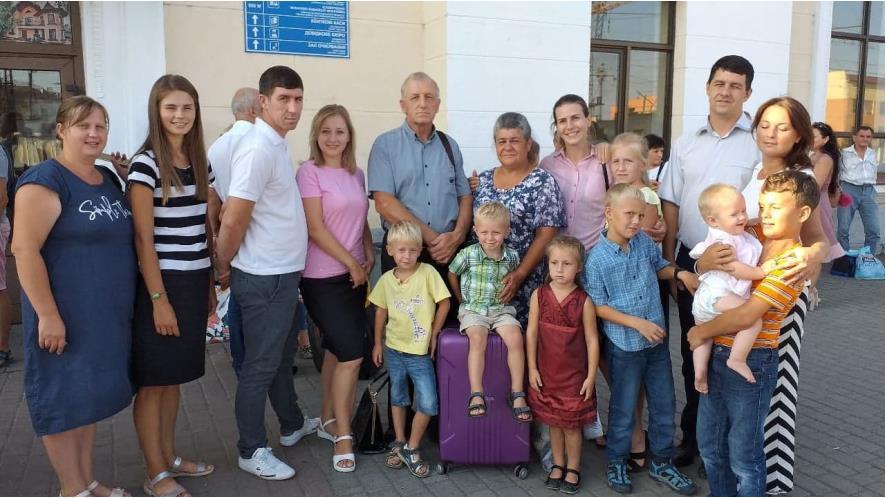 The second is an organisation called Little John's House based in Romania. This is an organisation we have known about for a few years for the good work with they do for children. They are, however, being swamped by Ukrainian refugees escaping the conflict which is proving difficult for them to cope with. They are currently converting a barn to accept more refugees and have just today taken in their first family but desperately need money to see it through. Your money is critical in them completing the work as quickly as possible.
As well as taking in refugees they are on a road used by many Ukrainians who are in transit to safety elsewhere. They provide provisions directly to them as well as temporary accommodation to rest so your money is helping with that.
Website for more information. littlejohnshouse.co.uk
So THANK YOU for supporting this thing which we are so pleased to be a part of. We make the stickers and your money is helping to give comfort and joy to so many victims of one man's madness in a country I could drive to in a day.